Yet still I hope
Since Europe closed its border to the big migratory wave and the so called "Balkan route" was now considered to be a history, newly arrived refugees and migrants, as well as those already being in Greece got stranded in it.

Some refugees still try to leave the country using non legal ways, but the vast majority follows the legal procedures reverently and they eagerly awaiting relocation permit for another EU country. However, the relocation program has stopped and only a very small amount of people will manage to accomplish this goal and these are mostly family reunifications and vulnerable cases under special programs.

Life for those stranded in Greece, has a bittersweet taste… In one hand, we have the big numbers of people living in refugee camps across Greece, with those on the islands to be the most overcrowded. Living conditions inside some of the camps at the islands are terrible, lucking in basic amenities like toilets and running water.

On the other hand, some families – 22,813 people as of June 1st, 2020, according to UNHCR and usually vulnerable cases – live in apartments in big cities, provided by EU and NGO's, with half the population located in Athens. These families are given the opportunity to live under a sense of normality, roof under their head, school for children etc. But even here the uncertainty remains, since their future seems vague, as of June 1st 2020, Greek authorities will start moving over 11,200 people out of flats, hotels and camps on the mainland, in order to make room for other asylum seekers currently living in island camps.

Whether people live in a camp or an apartment, the battle for a better tomorrow remains, guided by the driving force of hope.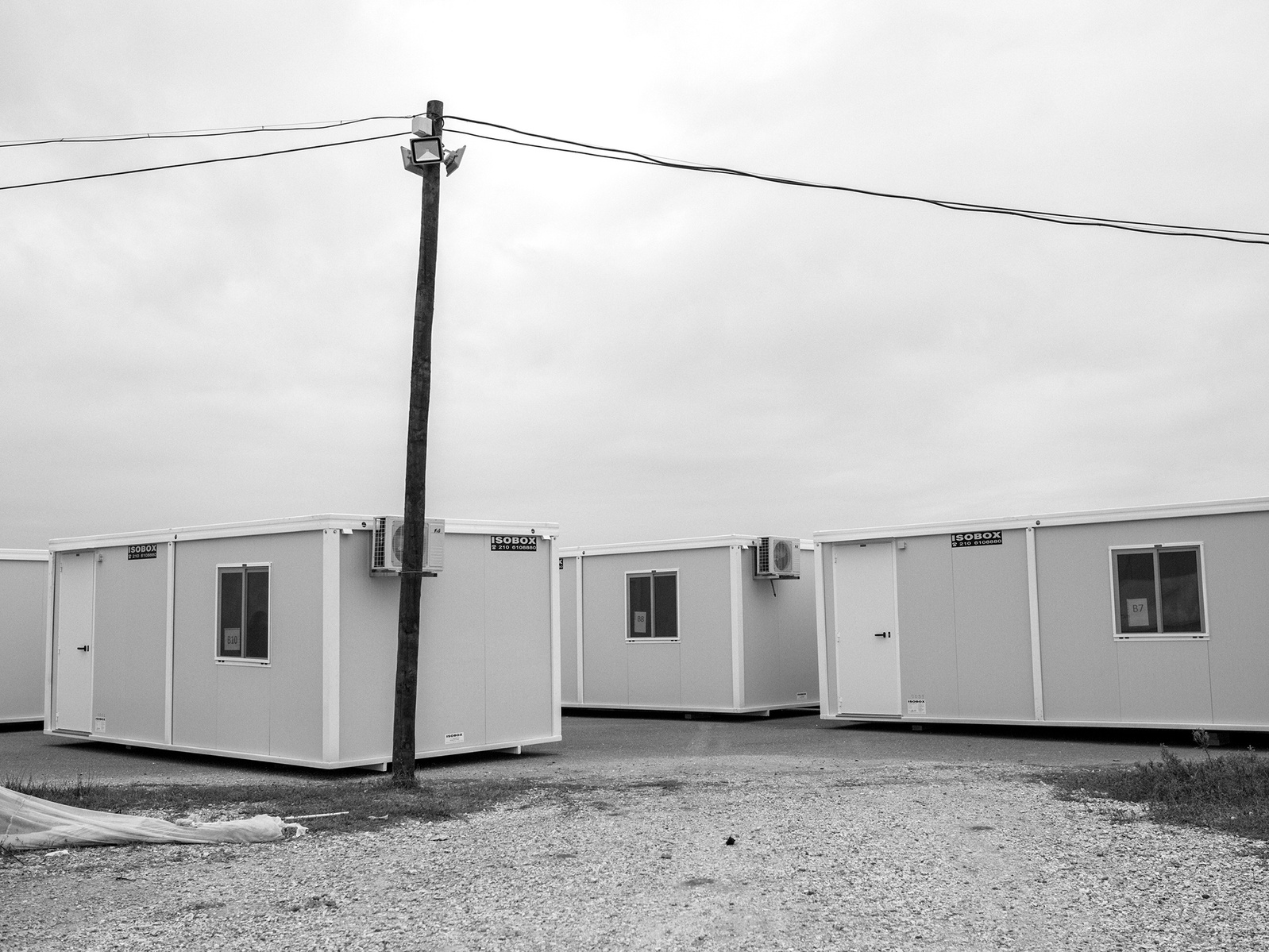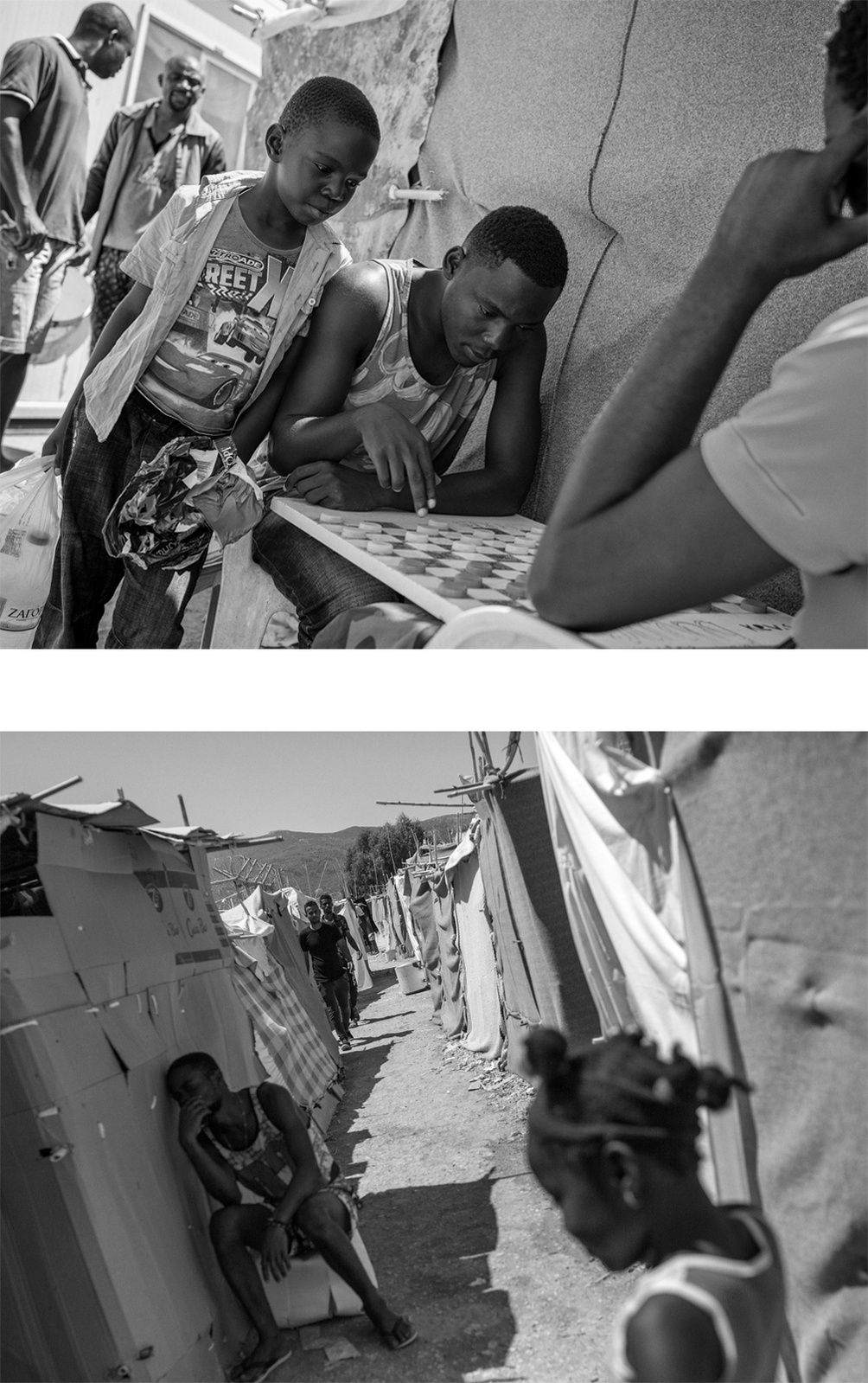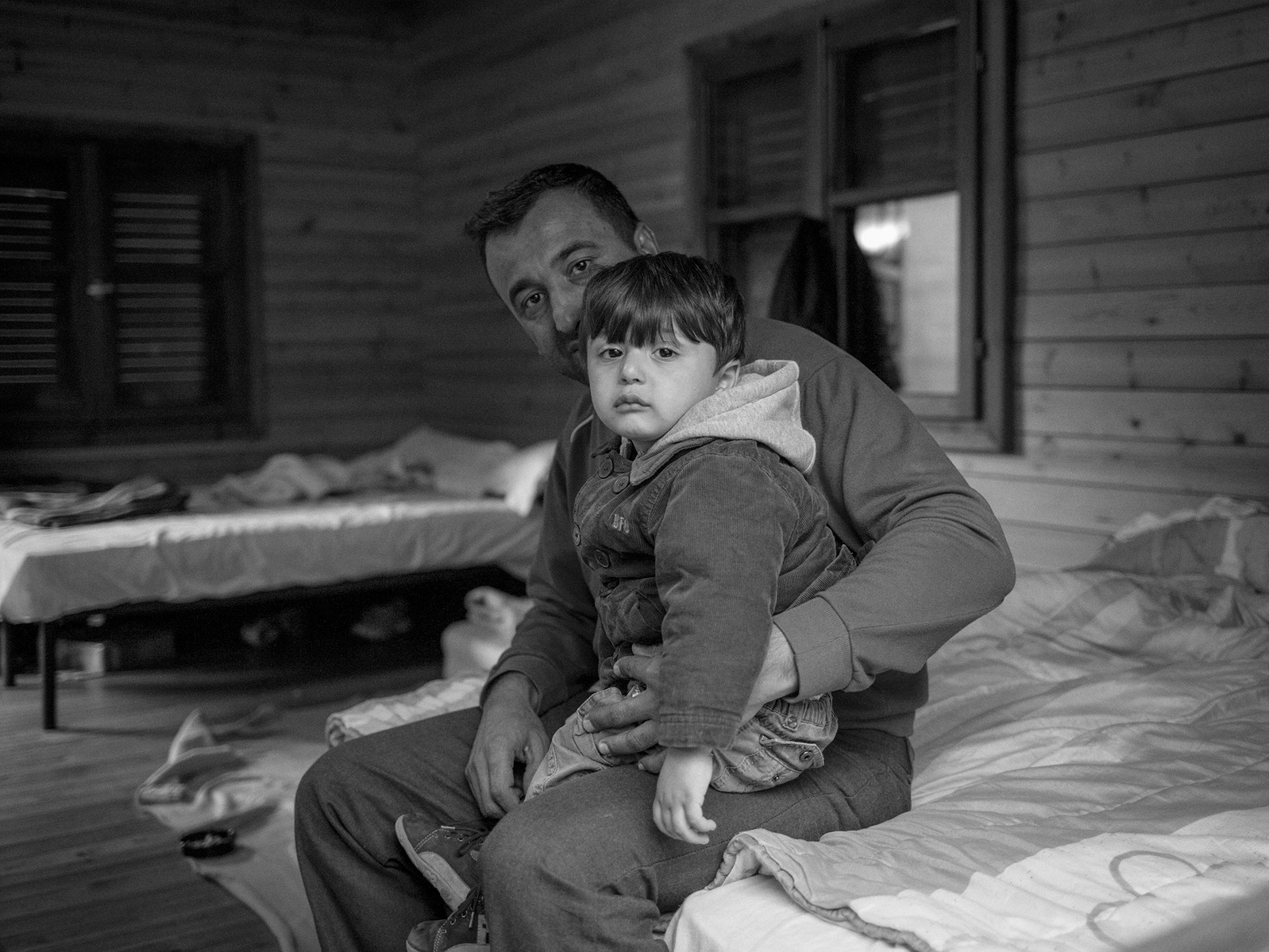 ←
Fiaz, is a refugee from Syria. Here is sitting with one of his three children Ali, inside Pikpa camp - near the Airport at Mytilene, Lesvos island - where volunteers organize a "village" for traumatized refugees. Fiaz was on a wooden boat, crossing the Aegean Sea from Turkey to Greece, along with his wife and their three children, when their boat got hit by a Greek Coast Guard vessel. The wooden boat sank taking Fiaz wife with it.
→
Discarded boats used by refugees and migrants to cross the Aegean Sea from Turkey to Greece at a dumping ground near the town of Molyvos on the Greek island of Lesvos.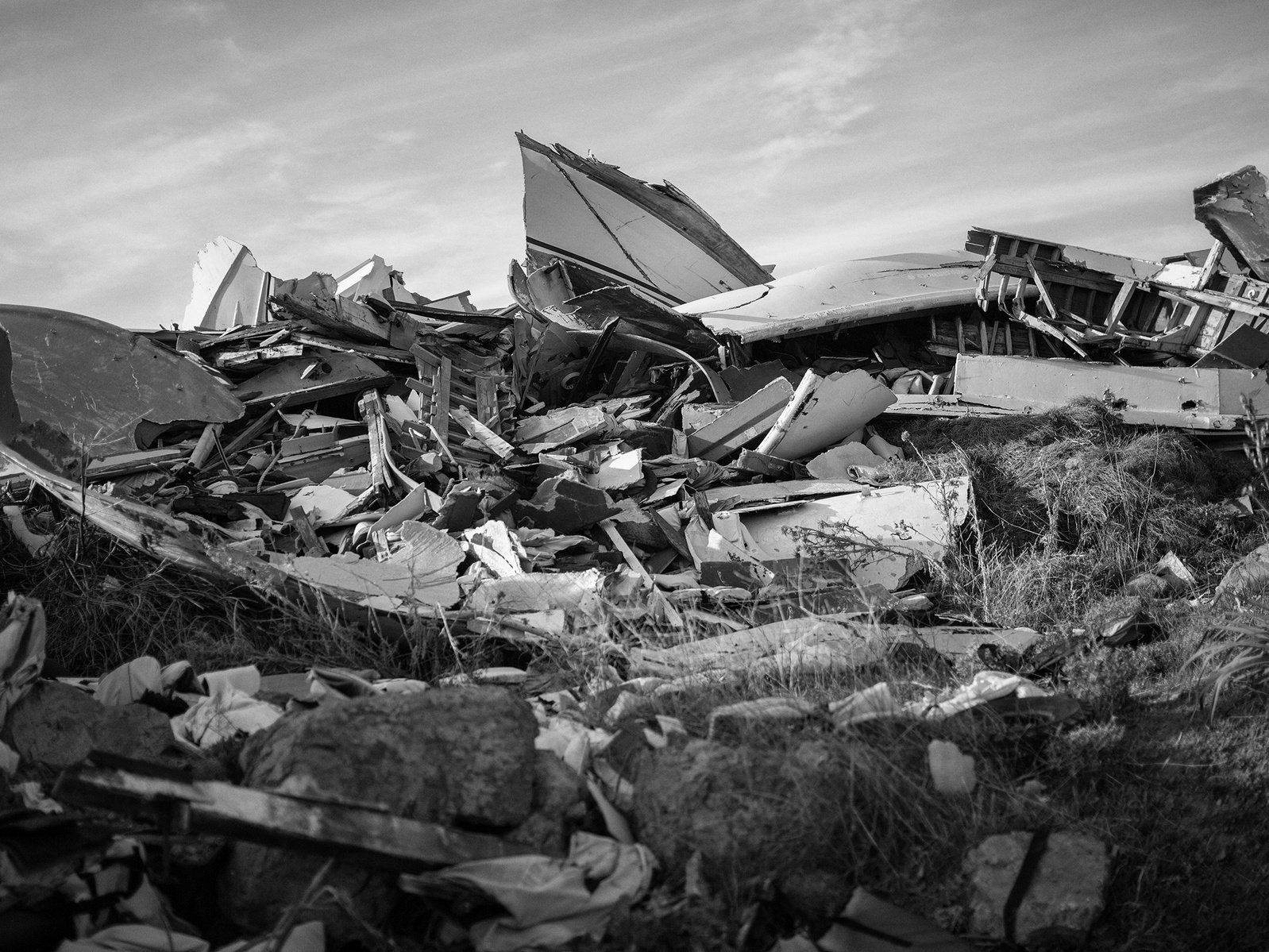 Due to high arrivals from Turkey, the number of refugees and migrants staying on the Greek islands surpassed 20,000 in July 2019. Three of four people – over 15,000 – on the islands, stayed in Refugee camps, known as hotspots, which had a combined capacity of just 5,400. Living conditions in them is unbearable.
←
Ali, a 28-year-old refugee from Syria, shows the bullet wounds on his body on the Greek island of Kos on the 6th of June 2015. In 2013, he was shot five times during a demonstration and he still had a bullet in his body. He was in need of a delicate operation to remove it, hoping to receive treatment at a specialist hospital in Berlin, Germany. Eventually he manages to do the operation with success, not in Germany but in Austria instead, where he also lives ever since.

→
Ibrahim Bangura, 19, is from Sierra Leone. He studied computer science at Njala University, but broke off his studies after one year. He says he can do a bit of programming, but before he could learn more, he left the city.
"When I told my parents that I am gay, they disowned me," he says. "So I left. My trip began on August 18, 2018, and I made it to Turkey via Guinea and Iran. From there, I went by boat to Greece. I was in an inflatable raft together with 50 other people, they just pushed us out to sea. Here in the camp, we have no medications, there is a shortage of everything. If I ever make it to the European mainland, I would like to do something with software."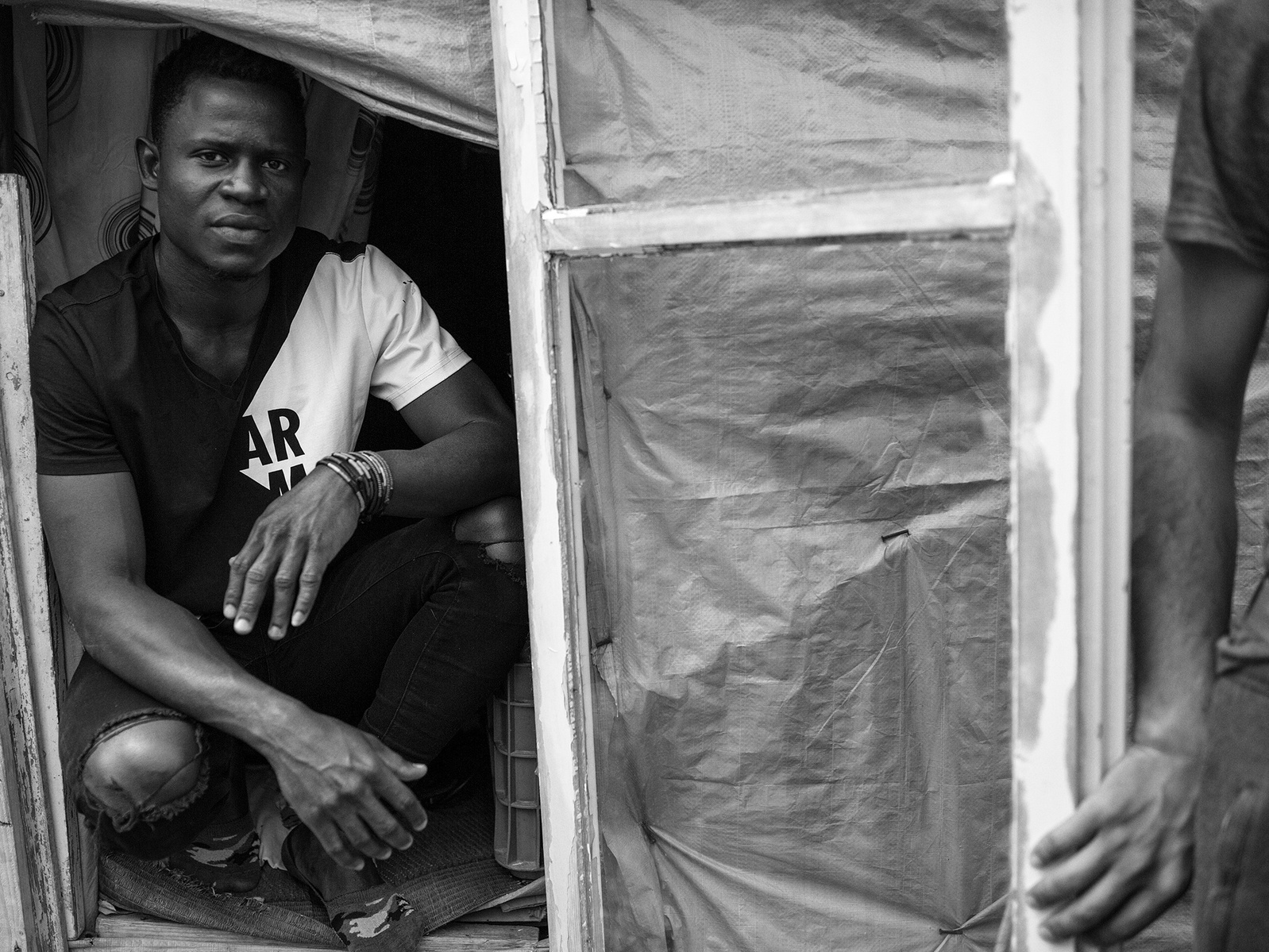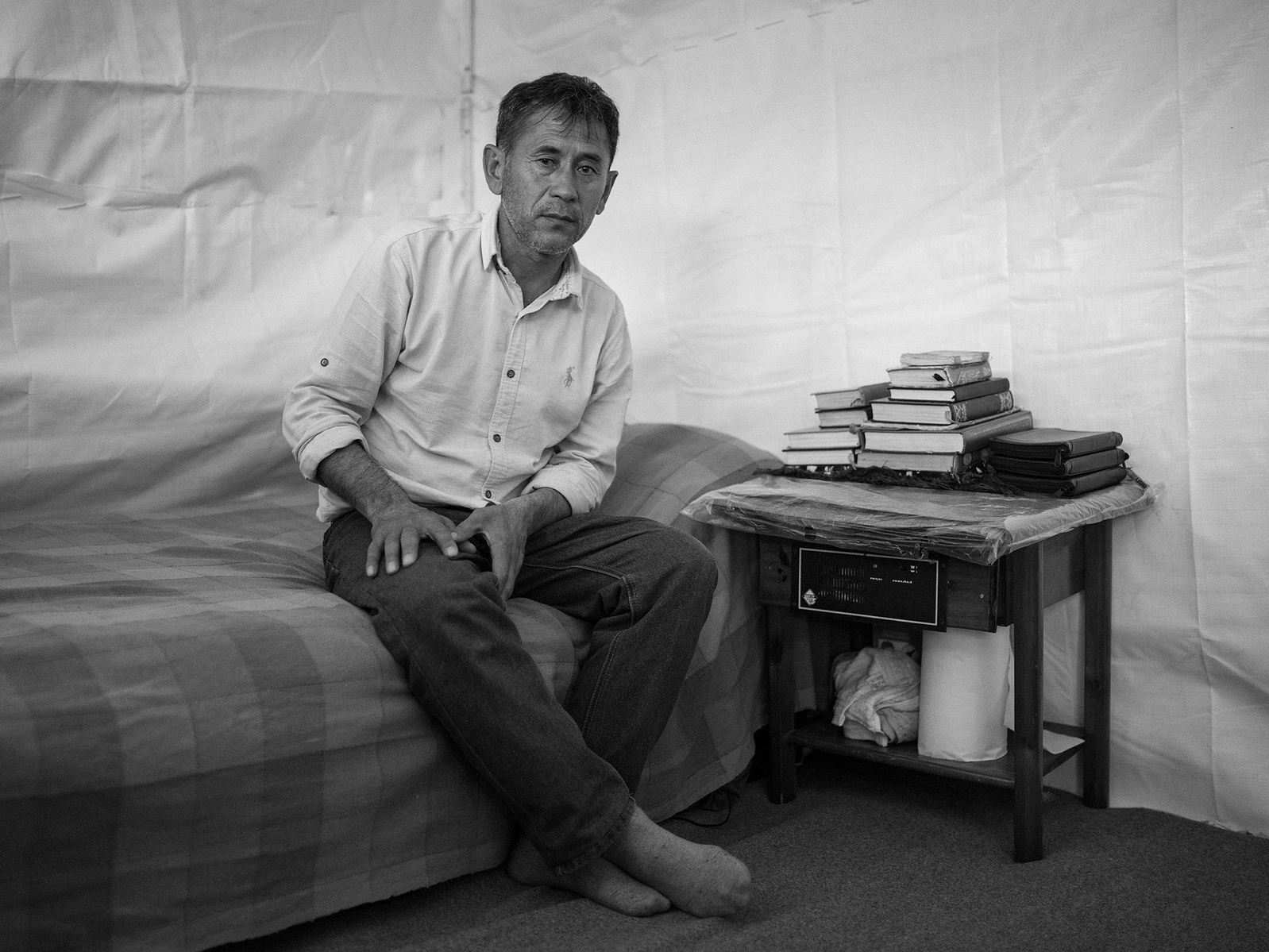 ←
Ali Bakhsh Mohammadi, 46, fled Afghanistan with his wife and five children.
"If we hadn't left, we would probably already be dead. All of my neighbours have been killed in attacks. I didn't want my family to end like that. We paid $1,000 to get to Iran and crossing the Turkish border cost $1,500. The boat to Greece cost $3,500. Here in the camp, I never leave my family alone and accompany my wife and children everywhere they go to protect them. Our tent is full of cockroaches and starting at 6 a.m., we stand in line for food. This camp isn't safe. It isn't made for people, but for animals. My dream is to make it to Switzerland, but to be honest, I'd be happy with any country where I can work."
→
Children living at the Pyli Reception and Identification Centre, play during a break between lessons at the KEDU non-formal education centre on the Greek island of Kos.
On the Greek islands, in 2019, thousands of asylum-seekers children lived in overcrowded refugee camps and were not enrolled in school, since they were expected to stay only temporarily before moving to the mainland. Processing could take months and in the meantime, children were unable to access formal education. NGO's and Organizations helped bridge the gap at informal educational centres, such as KEDU on Kos island, where children attended language, Maths and IT classes, together with help on their homework.
←
Subhan, 17, from Iraq, in her apartment provided by an NGO. She fled Mosul and arrived on the Greek island of Kos in July 2018. Now Subhan attends school and she says: "When I was in Mosul, I couldn't even dream about my life, how I wanted it to be. Once I started to learn and to study I began to dream."
→
Ammar - name changed - from Iraq with his mother at their apartment provided by an NGO, on the Greek island of Kos. They came to Kos from Baghdad via Turkey.
He says: "It changes everything to go to public school".
←
A child waits in line in order to get on board on a ferry from Lesvos island to Athens. Many refugee and migrants are hopping to be in a position to get a ticket out of the islands and continue their journey. "Anywhere else but here" many will say, due to the conditions on the islands camps.

→
Many refugee and migrants knowing that entering Greece through the Greek islands will restraint them and they will not be able to travel to mainland, choose another path. A very dangerous and deadly path. They entering Greece by land from Turkey arriving on Evros region where they must cross the fast-flowing river of the same name. Getting to the other side of the Evros is a dangerous undertaking and several people have lost their lives or gone missing while attempting the crossing.Identifying the drowned bodies has fallen on the forensic team at the local university in Alexandroupolis.
Mr. Pavlos Pavlidis, Professor of Forensic Science at the Democritus University of Thrace for 18 years is working to identify the dead bodies and records the personal items found on them in the border river between Greece and Turkey.
"I am trying to find the missing link between the bodies and any living family." He says.
→
Mohammad is a Syrian refugee living with his family at Skaramagas refugee camp near Athens. Mohammad has breathing problems caused by stress and smoking, and his wife Fatin has an acute mental health issue now being treated regularly in Greek hospitals. Their stress was made worse when they were told recently that their application to be reunited with their 11-year-old daughter in Germany had been rejected.
"When they told me that we would have to wait for a positive answer until May 2018, I felt an immense pain and sense of desperation," said Fatin.
→
Ali (left), 6, and Abubakr (right), 8, play games on a phone in the house they share in Athens with their siblings and their parents, Almlihan Kanwan and Alghafor Isa.
Alghafor's family is a nine-member Syrian family from close to Deir ez-Zor and are among more than 25,000 refugees benefitting from the EU-funded ESTIA (Emergency Support to Integration and Accommodation) programme in Greece. Alghafor Isa, 39, fled his village with his wife Almlihan Kanwan, 39, and their seven children in 2018, when their eldest son was injured in a bombing. From Turkey they passed to the Greek island of Lesvos, where they stayed at Moria reception centre before being settled in an apartment in the Kallithea area of the Greek capital, where the two eldest children are attending school.
As of June 1st 2020, Alghafor's family is among the 11,200 recognized refugees affected by the Greeks government's decision to start moving them out of flats, hotels and camps on the mainland in order to make room for other asylum seekers currently living in the Greek islands camps. Greece, not having a proper and complete integration program forces recognized refugees to uncertainty and many of them are facing homelessness
→
Abdolrahman Aboshear, 21, is living at an NGO's Youth Shelter in central Athens. Abdo - to his friends - fled Aleppo for Greece in 2016 as an unaccompanied minor. He left his hometown after damaging a lung in a bomb blast. His injury still poses serious problems. He crossed into Turkey and on to the Greek island of Chios. Now in Athens, he studies computer science and dreams of working as a developer for a big company. Meanwhile he works part-time as an interpreter.
←
May 16, 2017. Thessaloniki, Greece. Abu Nidal is a Syrian refugee from Homs. He came to Greece with his family through Turkey, but since the so called "Balkan route" was closed, they stayed in the makeshift camp of Idomeni for several months. When Idomeni was evacuated, they were all transferred to the Softex/Kordelio camp in the industrial area of Thessaloniki, known to be the most notorious camp in Greece. Luckily they granted proper housing in the urban area of Thessaloniki. They await news about their application for relocation to another European country – a process which was delayed for several months as their official documents were stolen at the Softex camp.
→

Serahman - name changed - is a 17-year-old teenager from Afghanistan. He became a refugee at a very young age and has been on the go since then. Serahman belongs to a generation of Afghan children who have experienced nothing but war. He was born in 2003 in Baghlan. "I don't remember going to school regularly. My family had to hide from the Taliban. But I couldn't just stand doing nothing. I told my mom and dad that I had to leave. They didn't want to, but I convinced them."
Serahman left his home being a child, losing any type of contact with his family. Days and years passed, he had to endure hardship, but he never stopped dreaming.
"I wanted to go to Europe, become a pilot, and fly to countries where there is peace," he says.
Serahman crossed from Iran to Turkey and then from Istanbul to Alexandroupolis, walking for "one day and one night." He then rode a bus to Thessaloniki and from there to Athens, where he was identified by the authorities as an unaccompanied child – he was 15 at the time. Serahman was initially accommodated for several months in a shelter for unaccompanied children in Athens and later, in April 2019 he was moved to a SIL apartment "Semi-Independent Living" programme for unaccompanied children. "After a long time, I finally managed to talk to my parents and tell them that I am fine," he says. "I love living in a house. I have my own bed, friends and roommates to share the chores, going to the supermarket, cooking and house cleaning as well," says Serahman.
Today, more than 5,000 asylum-seeking children are in Greece without their parents. Only one in five live in appropriate shelter, while almost 1,000 children are homeless or live in informal accommodation, like squats.
→
Islam (R), a ten-year-old refugee from Syria, helps her father Ashraf with the groceries at the local super market.
The nine-member Syrian family from Deir ez-Zor are among more than 21,000 refugees that are currently benefitting from the EU-funded ESTIA (Emergency Support to Integration and Accommodation) programme in Greece. Ashraf Alali, 43, fled his town with his wife, Rana Alsalm, 37, and their six children in 2017. From Turkey they passed to the Greek island of Lesvos, where they stayed at Kara Tepe accommodation site before being settled in an apartment in Tripolis, Peloponese, where the eldest children are attending school. Their younger daughter, Rawan, was born in Tripolis in 2018.
As of June 1st 2020, Ashraf's family is among the 11,200 recognized refugees affected by the Greeks government's decision to start moving them out of flats, hotels and camps on the mainland in order to make room for other asylum seekers currently living in the Greek islands camps. Greece, not having a proper and complete integration program forces recognized refugees to uncertainty and many of them are facing homelessness